Is your child a picky eater? Is his definition of food 'hotdogs' and 'french fries'? Does mealtime end up in a losing battle with the little one whenever vegetables are served?
Then this might just be the perfect solution for you! I've teamed up with
The Rebel Sweetheart
to bring you the
Copy-Kids DVD Review and Giveaway!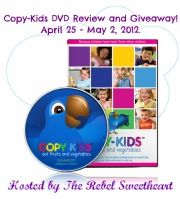 Czjai of
The Rebel Sweetheart
recently had the opportunity to review the '
Eat Fruits and Vegetables DVD
'. Produced by the media company
Copy-Kids
, it is 'a
joy-filled video and an innovative tool for parents who want to get children to enjoy eating fruits and vegetables.'
Here are excerpts of Czjai's thoughts on the video: (Read the full review here.)
The opportunity to do this review couldn't have come at a more appropriate time. You see, my son will formally start school in June (right now he's actually enrolled in a four-week School Readiness Program), and I'm worried that the new environment and the drastic change in our daily schedule might affect his present eating habit.
My three-year old was never a picky eater... He likes fruits, eats vegetables, and absolutely loves fish! However, he could be singing to a different tune once he goes to school. After all, not many kids eat fruits, vegetables, or fish.
But just like a superhero making a mad dash for the damsel in distress, my parcel from Copy-Kids arrived at my doorstep last Friday. My son and I watched the video together, and it was such a joy seeing those kids devour fruits and vegetables with such gusto!
Now mind you, this isn't a scripted production. Because even if it is, you certainly can't make a toddler eat cucumber or brocolli with a smile on the face if he or she is unwilling. And that is what I love the most about this video. It has a lot of heart and sincerity to it. It teaches kids how to eat healthy by showing them how other kids do it. After all, kids learn best from example.
The
Eat Fruits and Vegetables DVD
retails for $19.95 and ships for free within the United States. But as a treat to our dear readers,
Copy-Kids is giving away a copy of this DVD for FREE!
One lucky winner will have the chance to watch and enjoy this fun-filled and innovative video together with his/her kids, right in the comforts of their own home!
Join the Copy-Kids DVD Giveaway by sending in entries through the Rafflecopter below.
This event will run from April 25
(12 MN EST)
until May 2
(12 MN EST)
, and is open WORLDWIDE to individuals 18 years old and above.
Please make sure to like ALL of the participating Facebook pages to gain more entries!
More entries mean more chances of winning!
Good luck! :)
a Rafflecopter giveaway
a Rafflecopter giveaway